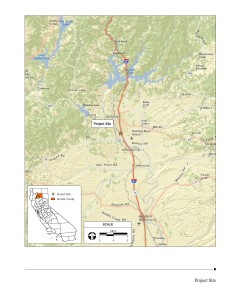 The Bureau of Indian Affairs (BIA) as lead agency has initiated the preparation of an Environmental Impact Statement (EIS) to analyze the potential environmental consequences of the Redding Rancheria's (Tribe) application for a proposed 232-acre fee-to-trust transfer and gaming facility project in unincorporated Shasta County, California approximately 1.6 miles northeast of the existing Redding Rancheria, and about 2 miles southeast of downtown Redding. The proposed fee-to-trust property includes 7 parcels, bound by Bechelli Lane on the north, private properties to the south, the Sacramento River on the west, and Interstate 5 on the east. The Shasta County Assessor's parcel numbers (APNs) for the property are 055-010-011, 055-010-012, 055-010-014, 055-010-015, 055-050-001, 055-020-004, and 055-020-005. The proposed gaming facility would include an approximately 140,000 square foot casino, an approximately 250-room hotel, an event/convention center, a retail center, and associated parking and infrastructure. The new facility would replace the Tribe's existing casino, and the existing casino buildings would be converted to a different use. For the purpose of the EIS, the BIA will serve as the Lead Agency for compliance with the National Environmental Policy Act (NEPA).
The BIA issued a Notice of Intent on November 29, 2016 which opened public scoping to identify potential issues, concerns, and alternatives to be considered in the EIS. A public scoping meeting was held on December 21, 2016 and the public scoping period closed on December 29, 2016.
A Scoping Report is now available which describes the EIS process, explains the purpose and need for the Proposed Action, describes the Proposed Project and alternatives, and summarizes the issues identified during the scoping process. Appendices to the Scoping Report include all comment letters received by the BIA and the public hearing transcript.